Dating apps and websites have become breeding grounds for scam artists. There's a new type of scam in the online dating world, mostly targeting single men. The perpetrators seek to entrap their victims into underage sexting and subject them to extortion. 
Sexting is the act of sending sexually explicit or suggestive messages or images primarily via mobile phone. While there's nothing wrong with sexting between consenting adults, sexting with an underage child is illegal. The internet is full of scam artists trying to lure victims into contacting minors. 
If someone who is claiming you contacted an underage child is asking for money and threatening to involve the police, you must hire a criminal defense attorney to evaluate your situation and give you actionable advice. 
How the Underage Sexting Scam Works
Over the last few years, there's been an increase in the number of scams associated with underage sexting. This is how it plays out. You meet someone claiming to be a woman of legal age online, either via a dating app or even social media. 
In many cases, the person is using a platform that you must be 18 and over to use. During the conversations, the scammer will ask for sexually explicit photos. Once the perpetrators get a hold of these lewd images, the 'woman' ceases communication.
Soon after, someone purporting to be an angry parent will start messaging you for sexting with their 'underage daughter,' who will now need therapy due to the ordeal. The 'angry parent' will threaten to go to the authorities unless you give them money for the therapy or some other made-up expense. 
What Does Texas Law Say About Underage Sexting?
In Texas, there's nothing wrong with consensual sexting between adults. However, problems may arise when participants are involved with minors while sexting. Under section 33.021 of the Texas Penal Code, it's illegal to have sexually explicit communication with a minor (anyone under the age of 17). 
Under section 43.24 of the Texas Penal Code, it's illegal for an adult to distribute or display harmful or prurient material to minors under age 18. Therefore, sexting is a crime when an adult shares sexually explicit material with someone younger than 18 in this way.
Under Texas statutes, an adult involved in underage texting could be charged with promoting sexual performance by a minor child or distributing sexual images to a minor. These offenses are considered felonies and may require registering as a sex offender. Generally, the state of Texas requires sex offenders to register for a minimum of 10 years.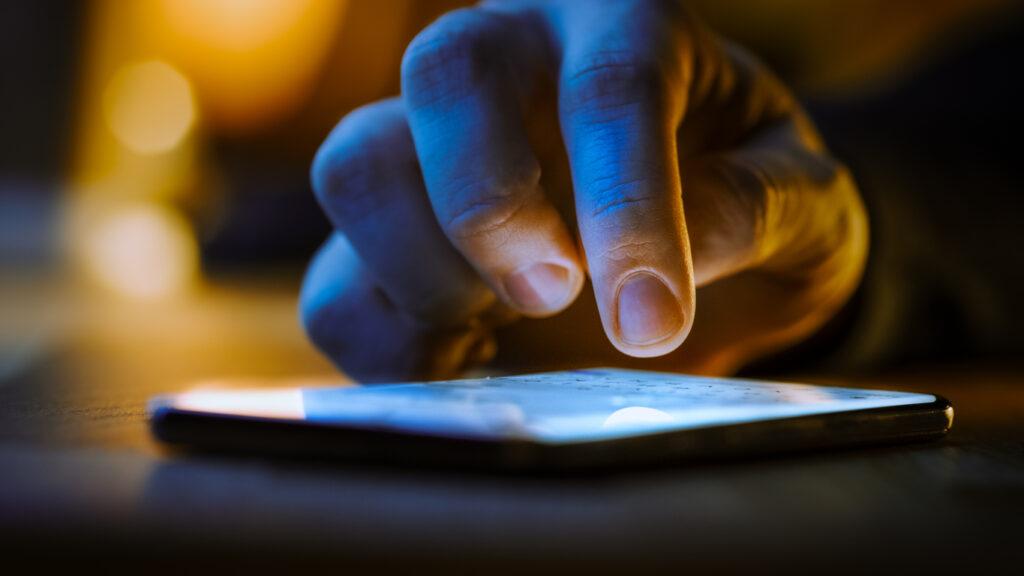 An unseen person's hand typing a message on a smartphone laying on a surface.
What About Federal Laws?
Depending on the circumstances of the alleged crime, an adult may also face federal prosecution for underage sexting in Texas. Federal prosecution carries more severe penalties and sentencing requirements. What federal laws prohibit underage sexting? 
Distributing any sexually explicit or suggestive image of a minor is a crime under the PROTECT Act of 2003. Asking or encouraging an underage child to send sexually explicit images is also a crime under this act. You're also likely to face child pornography charges at the state or federal level for underage sexting.
What Do You Do If You Fall Victim to the Underage Sexting Scam?
If you happen to find yourself in a similar situation, you are likely losing sleep over the upcoming legal issues if you are reported to the authorities. Perhaps you are contemplating paying hundreds — and possibly thousands — of dollars in extortion money. Do not send the money. 
Chances are, if you are being contacted by a 'concerned father' demanding money, you are being scammed. And once you give them some money, they are never going to stop extorting you. There are a few steps you can take if you are a victim of this type of scam. 
Cease All Communication with Scammers
If you find yourself in this type of situation, you must stop communicating with the 'angry parent' immediately. You should also cut off all engagement with the alleged minor if you are still in contact with them.
Hire An Attorney
Finding yourself in this situation can lead to stress and anxiety. If you are a victim of this type of scam, an experienced sex crimes attorney can be an invaluable resource. A sex crimes attorney will provide objective advice about your options in this difficult situation.
Innocent people fall victim to online scam artists all the time. Situations involving underage children — real or fake — are becoming increasingly common. Hiring a sex crimes attorney is the smartest way to deal with the situation described above. 
A sex crimes attorney can provide practical next steps you should take to deal with the situation quickly and efficiently. The first thing your attorney will do is find out if you've anything to worry about, legally speaking. The most likely scenario is that it's a scam, and your attorney will focus on putting a stop to the threats.
Contact a Sex Crimes Lawyer in Plano, Texas
If you or someone you know is being targeted by this online scam, you should contact a skilled and knowledgeable sex crimes lawyer in Plano, Texas, as soon as possible. Backed by a team of experienced attorneys at the Starr Law Firm, Attorney Kent Starr specializes in defending clients facing all manner of allegations. 
Attorney Kent Starr is the kind of attorney you want in your corner in such matters. Over the years, we have developed and dedicated a section of our practice to defending those accused of sex crimes. We understand that your biggest concern as someone in this unpleasant situation is the legal repercussions. 
Our experienced team can help you determine if you are the target of a scam or if you could face charges for talking to a minor. Regardless of the underlying circumstances, Mr. Starr and his team of knowledgeable sex crimes attorneys can help you handle the situation without drawing unwanted attention to the matter. 
Is someone claiming to be an angry parent and accusing you of communicating with an underage child trying to extort you? We can help. Contact Attorney Kent Starr today for a free consultation.  
Sources
https://statutes.capitol.texas.gov/Docs/PE/htm/PE.33.htm#33.021
https://statutes.capitol.texas.gov/Docs/PE/htm/PE.43.htm