No one expects to be arrested and charged with a crime. Whether you're a teenager charged with statutory rape or a white-collar professional accused of possessing child pornography, you're going to need a Plano criminal defense attorney to represent you. 
If this is your first time dealing with the legal system, you may think all criminal defense attorneys are the same, but they're not. Attorneys have different levels and areas of expertise, and you need to find the right fit for you and your case. Tough charges like sex crimes, domestic violence, and animal cruelty require experienced and highly skilled legal representation. When you are choosing a Collin County attorney to take on your case, there are some important questions you should ask.
1. How Can I Get Out of Jail?
After an arrest, you are taken to jail, where you will have a mugshot taken and your fingerprints recorded. And in most cases, you will be required to post bail, which is paying a set amount of money to ensure that you make your future court dates. The amount of your bail is based on the charges made against you and your prior criminal history, if applicable. You are likely eager to post bail so you can go to work and take care of your family.
Some people have enough money to pay their own bail, while many do not. If you don't have the funds, you will be left scrambling around, asking friends or family members, or tracking down a bail bondsman. Not to mention, you still have to find an attorney to represent you.
Attorney Kent Starr is a bail bondsman for Collin County, TX. With one phone call, you can be out of jail and have the legal representation you need. That's one less thing for you to worry about during this stressful time. When Mr. Starr represents you from day one, he may be able to negotiate the terms of your bail, lowering the amount you must pay. 
While Mr. Starr is available as a bail bondsman 24 hours a day, 7 days a week, be advised that bail is not set on the weekend. If you are arrested on a Saturday or a Sunday, a judge will set your bail on that following Monday.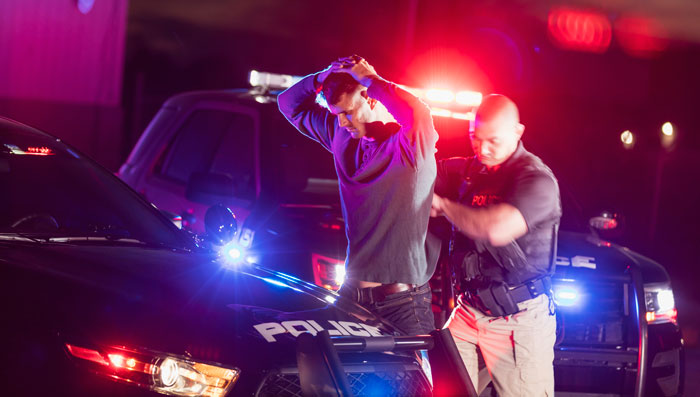 Man with his hands above his head while being arrested by a policeman
2. Have You Handled Cases Like Mine?
There are lots of attorneys out there that take on criminal cases. While they may be willing to take on virtually any misdemeanor or felony charge, how much experience do they actually have with your specific charges? 
Ask your attorney questions like, "How many aggravated sexual assault cases have you handled? When were these cases? What was the outcome?" This is public information. Any attorney who is confident and proud of their case histories will gladly share this information with you. It is very easy to look up online, and they can scroll through case by case to show you. 
And while there are attorneys out there who handle certain criminal cases from time to time, this is Kent Starr's specialty. He handles the toughest charges, specializing in:
3. How Often Do You Go to Trial?
When talking about past cases, you should ask, "How many cases have gone to trial?" Another way to ask this is, "Are you willing to take my case to court if necessary?" It's a myth that a plea bargain is always the "best" outcome in a criminal case. A lot of plea bargains is often a sign that a lawyer doesn't have the time or energy to fight for you in court. It may also mean that they are intimidated by the judge or district attorney.  
Getting your case in front of a jury may be the best option for you, and you need an attorney who will see your case through to the end. If taking your case to trial is in your best interest, Attorney Kent Starr is not afraid to do so. He is not intimidated and does not back down. When you hire him as your criminal defense attorney in Collin County, he will give you the best representation possible.
4. Can I See Your Client & Peer Reviews?
Past clients have the ability to review lawyers. Some lawyers post this information on their own websites. You can also read lawyer reviews on AVVO. Seeing what other lawyers have to say is also important. Is your lawyer respected in the legal community? Do their peers recommend them?
On AVVO, Kent Starr has over 100 client reviews with an overall rating of 5 stars. In addition, his fellow lawyers have endorsed him, saying Mr. Starr is "passionate about his work" and that he "has integrity and truly cares about doing the best job that can be done for his clients."
5. As the Case Progresses, How Will We Communicate?
It's an understatement to say that having an open criminal case is nerve-wracking.  Many cases are not resolved for months or even years and may require several court appearances. Along the way, you will need and want updates. 
You need to know your attorney is accessible by asking the right questions. "How can I get ahold of you? Do you answer calls on the weekends? Do you have more than one office location?"
Kent Starr is available by phone and email seven days a week. And for your convenience, he has two offices, one in Plano/McKinney and one in Frisco. When you hire Mr. Starr, you won't be left in the dark about your case. He'll make sure you know what's going on and that you understand the different steps you'll need to take in your case.
Criminal Defense Attorney in Collin County, TX
You need aggressive legal representation from day one, immediately after being charged. Give Attorney Kent Starr a call today at 214-982-1408 for a free phone consultation. Please be aware that phone calls made from jail are usually recorded.