Imagine this scenario. You're at the Dallas-Fort Worth (DFW) International Airport, about to leave on a trip. After standing in line for almost an hour, you're finally at the TSA checkpoint. You place your shoes and carry-on bag on the conveyor belt. 
Law enforcement then approaches you and wants to talk to you. You won't be boarding a plane anytime soon. The only place you're headed right now is the Tarrant County Jail because you accidentally forgot your firearm in your carry-on luggage.  
Rules for Flying with a Firearm and Ammunition
In the U.S., there are tight regulations for flying with a firearm and ammunition. Before you pack for your trip, you should follow these steps:
Review the

TSA Guidelines for Transporting Firearms and Ammunition

.

These guidelines may change at any time, so read them before each trip.

You also need to verify your airline's current policies for firearms and ammunition. Your airline may have its own restrictions or charge certain fees for firearms. 

If your destination is outside of the U.S., find out what that country's firearm restrictions and policies are. 
Can you fly with a firearm in the U.S.?
The TSA currently allows you to fly with a firearm if you follow these guidelines:
Your firearm must be

unloaded

and packed in your checked baggage. 

The firearm must be in a locked, hard-sided container. 

When you hand over your checked baggage, you must inform the airline agent that your luggage contains a firearm. 
You cannot bring a firearm (loaded or unloaded) through the TSA checkpoint or onto a plane, even if you have a Texas License to Carry permit.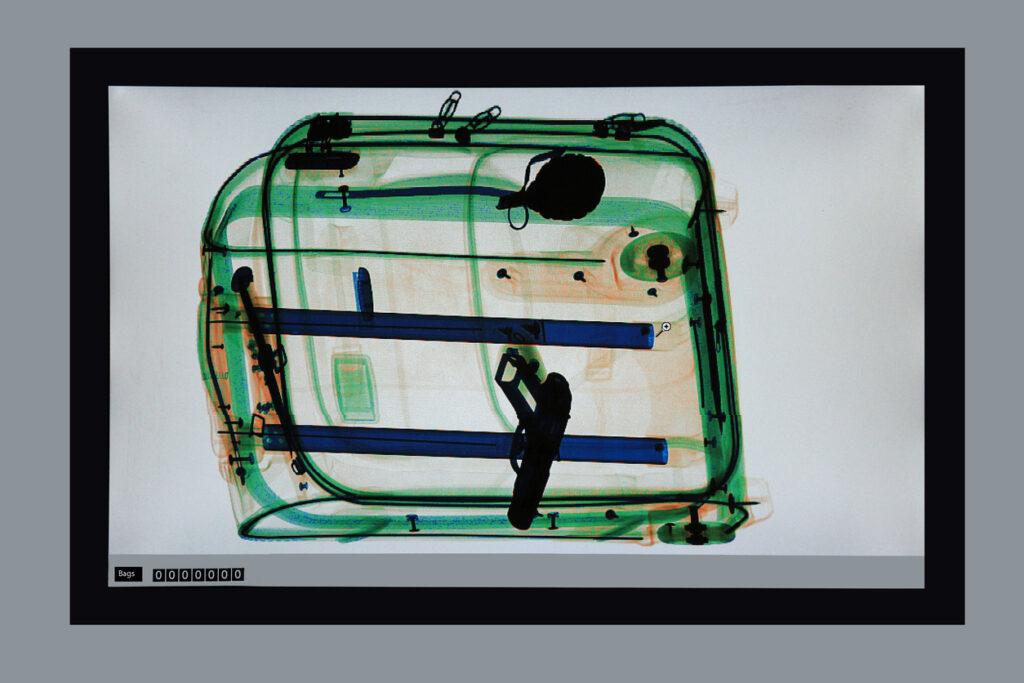 Penalties for Violation of Texas Law on Carrying a Gun in an Airport
Not only could you lose your flight, business trip, and/or thousands of dollars in pre-paid vacation, you could also be sentenced to up to 1 year in jail and a $4,000.00 fine and/or up to 2 years of probation.
Under certain circumstances, you could receive up to 2 -10 years in jail and a fine of up to $10,000.00. Yet, there are certain defenses that an experienced criminal defense attorney can assert on your behalf to possibly have the case dismissed.
Tips to Avoid Forgetting Your Gun in Your Carry-on Bag
Oftentimes, people make an honest mistake when their gun is left in their carry-on bag. Here are some tips to avoid this situation.
Pack your own bags. You might be in a time crunch before you fly out. But you risk a crisis if your well-meaning friend or significant other packs your bags for you. Not everyone is aware of the TSA's strict regulations for firearms. Whenever possible, pack your own bags. If someone else packed your bags, double check everything.
Don't leave your bags unattended. Always keep your bags in your line of sight or with someone you trust when you travel. That includes while you're at a hotel and during the cab ride to the airport. 
Make sure your travel partners know about firearm regulations. If you all don't know the rules for traveling with firearms, your trip will end before it starts. You could lose thousands of dollars worth of airline tickets and hotel reservations if you have to cancel your trip because your friend or family member was arrested. 
Look through your carry-on at the airport. Before you get in the TSA checkpoint line, go through your carry-on items one last time, including your backpack, briefcase, or purse. If you find your firearm or another restricted item, you still have an opportunity to put it in your checked baggage. 
How often do people forget firearms in their carry-on luggage?
The statistics show that this is far from an isolated event. According to WUSA News, the TSA confiscated a total of 5,972 firearms nationwide in 2021. DFW Airport had the second highest number of firearm seizures, at 317. The number one airport was the Hartsfield-Jackson Atlanta International Airport, which had 507 firearm seizures. 
After an Arrest for Having a Firearm in Your Luggage, Call Attorney Kent Starr
A DFW Airport arrest is a serious matter, and you need an experienced criminal defense attorney. Ordinarily, after an arrest, you would have to wait several hours or even days for a judge to set a bond. Through his connections with the magistrate judges of Tarrant County, Texas, Mr. Starr can have your bond set and secure your release much sooner. 
And as a bail bond attorney, he can post your bail if you are unable to. One phone call to his office at (214) 982-1408 streamlines the entire process. Many of his clients who inadvertently left a firearm in their luggage, suitcase, or purse have been able to return to the airport and fly out that same day. 
Dallas Airport Firearms Arrest Attorney
Mr. Starr's representation won't end after your release from the Tarrant County Jail. You will most likely face criminal charges under Texas Penal Code, §46.03. Places Weapons Prohibited. This statute states, in part, that "A person commits an offense if the person intentionally, knowingly, or recklessly possesses or goes with a firearm . . . in or into a secured area of an airport." 
Attorney Starr will defend you against these charges. He will pursue the best possible outcome for your case, which could be a dismissal. He has a long track record of helping clients navigate the criminal justice system. Take a look at Attorney Kent Starr's Google reviews to see his 4.9/5.0 rating and read what past clients have to say. In addition to client testimonials, Mr. Starr is also happy to show you the outcomes of his past cases. This is all a matter of public record and he can show you how similar cases were resolved. 
An innocent mistake shouldn't leave you with a criminal record. If you accidentally forgot your firearm in your luggage, contact Attorney Kent Starr's office to schedule a free consultation.
Related Articles
What Should I Do if I'm Arrested for Bringing a Gun to the DFW or Love Field Airport?
How to Choose the Right Criminal Attorney in Plano, TX
Sources
Transportation Security Administration: What Can I Bring?
These airports had the most guns found at checkpoints in 2021